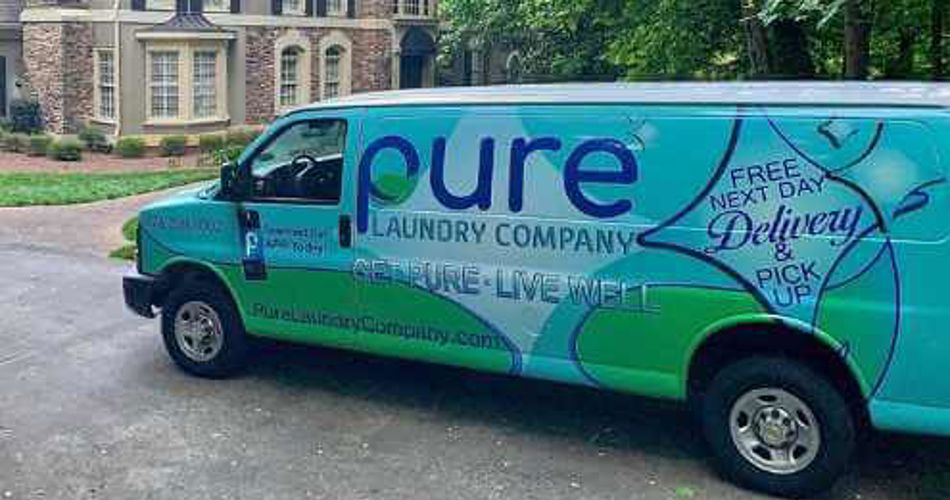 Laundry Pickup and Delivery in and near Dunwoody, GA
Pure Laundry's pickup and delivery laundry service is the perfect solution for busy individuals and families who don't have the time or energy to do laundry. Simply schedule a pickup online, and we'll come to your home to pick up your dirty laundry. We'll then wash and fold your laundry using our industry leading equipment and premium detergents, and deliver it back to you clean and fresh.
Pickup and Delivery Availability
Monday through Friday from 8AM to 5PM
Our drivers are picking up new orders and dropping off completed orders between 8AM and 5PM Monday through Friday. Any orders that are picked up on Friday will be delivered on Monday.
How Does this Pickup and Delivery Service Work?
It's easy. Sign up and schedule your order. Our online ordering portal will guide you through the ordering process where you will input your information, select from service options like laundry products, enter in special notes pertaining to special requests and instructions, and select your pickup and drop-off days. Once you place your order, then all there is left to do is collect your laundry into a laundry bag or even an unused trash bag and leave it where our driver can find it.
How Do You Wash My Laundry?
Once we pick up your dirty laundry, we will bring it back to our laundromat equipped with state-of-the-art Electrolux machines. Our wash experts will check the system for any special notes to ensure they do your laundry to your expectations. We will then sort your laundry into color and white loads, wash and dry everything using your choice of premium products like Tide, Downy, and Bounce or premium free & clear products like All, Downy, and Bounce. Once everything has dried, we will promptly move your laundry from the dryer to table and fold everything neatly, match socks, and pack it all into protective bags. Then we will notify you when it's on its way back to you and again when it's dropped off.
What Special Instructions Can You Take?
We do take special requests such as pre-treating stains and placing items on hangers. For spot treatments, please input specific notes when ordering online which garments need spot treatment and where on the affected garment the spot or stain is.
If you wish to have certain items placed on a hanger, please choose hanger service during the ordering process. This service is priced at $2.65 per pound.
---
When laundry can be simplified to placing an order, it's hard to resist the time-saving value. Why do laundry when you could spend this time otherwise? Schedule a pickup today.
Try Easy and Convenient Laundry Pickup & Delivery
We offer laundry pickup and delivery to both residential and commercial customers in Dunwoody to Buckhead and many places in between. We service the following zip codes: 30022, 30075, 30076, 30092, 30305, 30319, 30324, 30326, 30328, 30338, 30341, 30342, 30346, 30350, and 30360.
Dunwoody - Sandy Springs - Brookhaven - Roswell - Buckhead - Johns Creek